The TagArmur license plate frame utilizes a unique patent-pending 2-piece design to make it unlike any other frame in the market. The exterior frame is made from 100% aerospace-grade carbon fiber with a high-gloss clearcoat finish. The 2-piece design allows for a totally clean exterior, covering up any ugly bolts that take away from your cars clean lines.
Note: Requires 1/4" of clearance around license plate Only The Best
The carbon fiber portion of our frame is made of 100% carbon fiber through each layer. It's made by hand in Europe with utmost attention to quality and detail.
Buy Now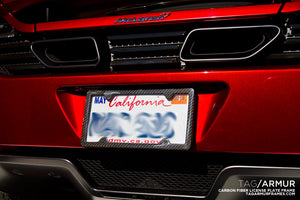 WHAT PEOPLE ARE SAYING
"This frame is the perfect accessory for your car. The mounting screws that are normally exposed are covered by this frame and it has a very cool clean look."
- Gary E.
"Recently bought 2 licence plate frames. 1 put on Black SRT 8 Jeep. Installation a snap and clean look and minimalist styling hit the mark."
- Jeff P.
"This will be the third vehicle I have put these frames on. Excellent accent to carbon fiber trim."
- Joseph S.
"I'm a carbon fiber junky and this item is top drawer. Best plate frame on the planet!"
- John P.